Wednesday, December 8th, 2010
Originally posted on August 28, cross-posting this here:
Just your garden-variety fanart recs post. I think I was doomed as soon as I stumbled across luulala's gallery. And Gobeur's. Title + art excerpt + notes follow.
Malik, Altair by luulala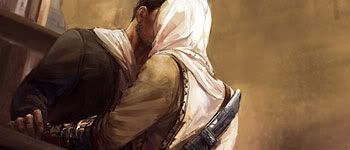 ~ I rarely have one favorite fanart in an entire fandom, but this one would be it for AC.
Ezio and Altair by luulala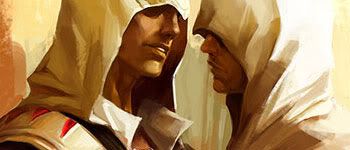 ~ more from the same artist, cross-generation slash ftw~
Look Ezio, isn't it amazing? by Gobeur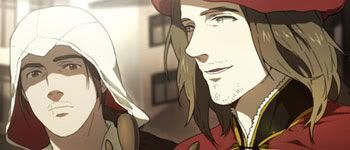 ~ I had no idea that the "Leo" in this fanart was Leonardo da Vinci. Or that I'd fall so hard for the char when I played AC2. 🙁 sorry, dude.
Untitled by Gobeur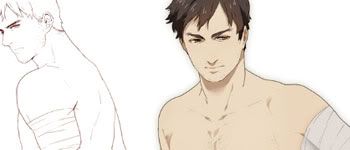 ~ Malik's the first amputee character I've ever wibbled over. I find this weird…I thought there'd be more. Mukuro's awesome, but I didn't like her that much.
Accessing the Animus DS by Gobeur


~ Gobeur's sense of humor. XD ♥
Just a Kiss by Ayleid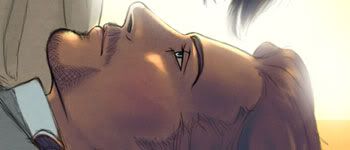 ~ I love this Leonardo. Just the right amount of softness. ♥
Untitled by Yousui (? hope I read that right)


~ Beautiful Altair/Malik fanart. Admittedly saw this after I got into AC, but it's too pretty not to put in here.
found you by doubleleaf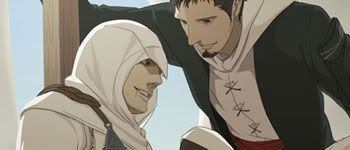 ~ Doubleleaf is probably the most prolific fanartist in the AC fandom (which is awesome, because she draws so well). This is the AC artwork I love most in her gallery.
I wanted to include fanart involving Altair's water solubility (because one doesn't really get into this fandom without making fun of the master assassin's inability to swim), but I can't find one that I adore enough. 🙁 Oh, well.